There really is no shortage on stopwatch apps in the Android Market, currently you find 1.142 results. But there are very few apps which don't follow just a plain list based design. The Hybrid Stopwatch and Timer app from Javier Salmona is a remarkable exception and presents a beautiful icon, interface & works really well.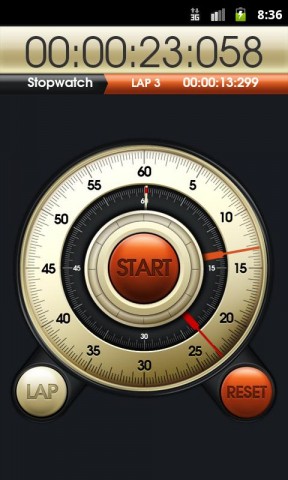 While the typography in the timer display at the top could be improved towards a more realistic look the big stopwatch looks stunning. There're are three big buttons for start/ending, marking a lap & resetting the watch. You just push start and there you go. Additionally the app shows an icon in the notification area and continues to show the stopped time when exiting the app. Pushing the lap button marks a lap which all can be accessed in a lap list.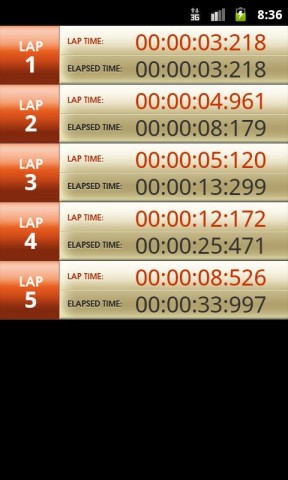 The stopwatch functionality is the default functionality but you can access the Timer feature via an entry behind the menu button. The timer makes the handle in the inner black ring active.
But there's one crazy thing: while this is an app which stands out and a lot of people probably would pay for it, they can't. Because the developer is in a country where the Android Market isn't supported he isn't able to charge for it. So there's no way to remove the ads. I just hope the Android Market will be supported in his country soon.
Hybrid Stopwatch and Timer is a free download and requires Android 1.6+. And sadly there's no website, twitter account or anything else besides the Market listing I could link to.