PowerBubble from Boy-Coy is one of the most beautiful spirit level apps you can find on Android. It obviously makes good use of the accelerometer built into most Android devices and uses a good looking brushed metal visual theme.
PowerBubble was coded by Andrzej Dus (@andrzejdus) & designed by Jarek Berecki both forming Boy-Coy which they say is dedicated to high quality products. The app is very intuitive and you can start using it right away using the spirit level along with a numerical reading. A nice & surprisingly useful addition is the sound feedback you get (a subtle beep) when the level reaches 00.0 degrees.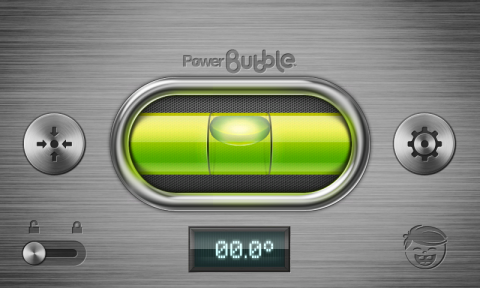 PowerBubble can be used in both portrait & landscape view. In both views you get a small set of on-screen controls for calibration, locking & settings. Changing the orientation slightly changes the layout of these controls.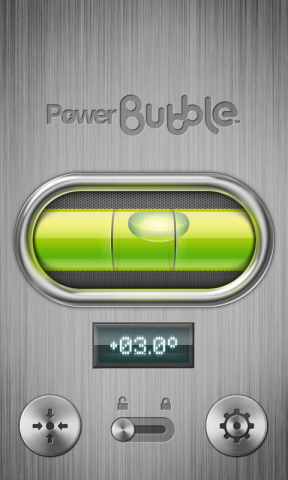 This app is another good example for a limited feature set where the included features work exceptionally well and are just enough to get the task done. This is something all mobile apps should follow and you wouldn't believe what useless features other spirit level apps try to crank into their UIs or more horribly, make something like this just one of dozens tools in a bloated suite-like app.
The pricing is interesting: the app is a free download but per default you'll see ads at the top of the screen which the two even tried to visually integrate into the UI with a bit of tape.

But in the settings you're encouraged to donate whatever you like via PayPal although you can switch off the ads without donating. Andrzej told me they want to give users a fair choice to show how much they value the work. So needless to say you really should donate something if you like the app.
Sadly by tapping on the donate button you're taken out of the app and land on the PayPal website which obviously complicates the donation process. They're based in a country where charging via the Android Market isn't possible. This also prevents them from having more user friendly in-app purchases. Since they're already working on their next app one can just hope Google makes the jump quickly.
Power Bubble requires devices running Android 2.1 or higher.