Read It Later is a web service you can send web articles to for, well, reading them later. You can access your saved articles in an optimized reading view in various ways. Besides a web app they have good looking native apps for nearly all smartphone systems including Android.
Upon start you're asked to login or quickly create an account within the app.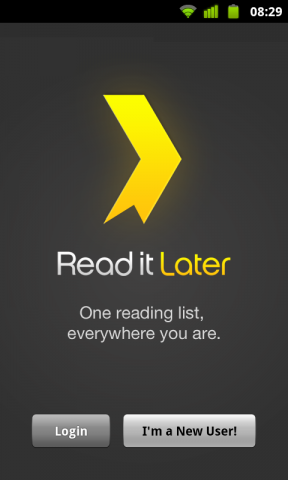 Upon successful login you're presented with a start screen where you can quickly access your saved articles in the Reading List or access other options. From there you could theoretically add something to your Reading List but the app registers itself into the global Android share menu. So you can send articles to Read It Later from every other app if it has the share menu included.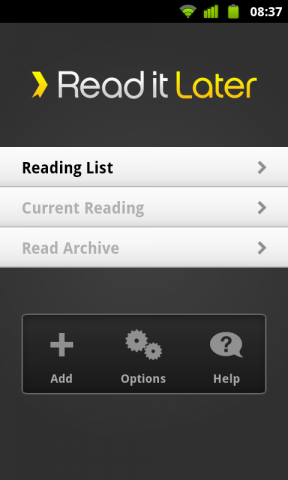 The Reading List gives you a quick and effective overview of your articles which can be filtered with the search field at the bottom. The list view has some subtle visuals to break out from the usual "flat" list style of Android. Tapping on an article row opens the article view.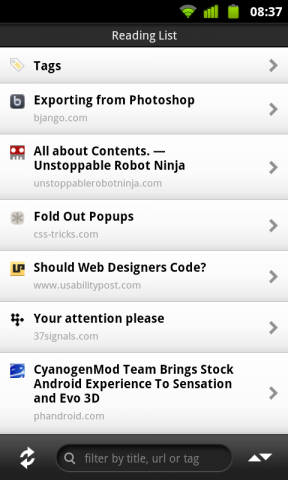 The article view is nice and minimal and you can switch quickly between the optimized view and the web view by tapping the switch at the bottom. However, there are many additional options accessible via the menu button and one of them is the ability to switch to a dark mode. All articles and their content are cached for offline reading too.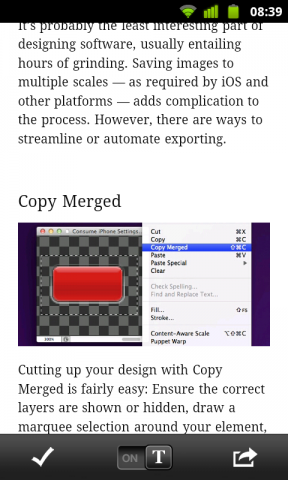 Read It Later is available as a free version or as a pro version for devices with Android 2.1 or higher. Sadly there is no tablet optimized version for now but I'm sure this will get fixed sooner or later.