Gowalla is a location based social network similar to Foursquare but with a strong focus on clean and beautiful interfaces. The spots you checkin to are represented by gorgeous icons called stamps and a lot of places got their unique stamps. By checking into spots you collect those stamps and you're additionally rewarded with pins. Another feature is the creation of trips, which allows you to combine several spots into a trip your friends can complete. Overall it's a fun and playful approach to a location based network. And the Android app looks beautiful too.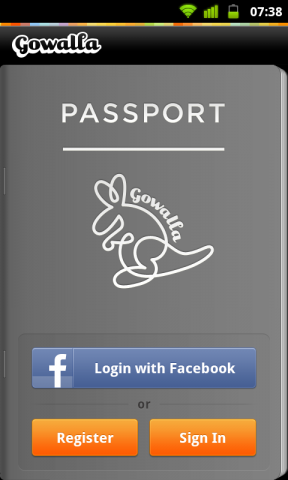 The Gowalla Android app, designed by Drew Yeaton (@xeeton) from the Gowalla design team, has a passport-themed visual style with a custom UI from top to bottom. After logging in you're presented with an effective overview screen from where all features of the app are accessible. That's a welcome differentiation from most Android apps where a lot of features are cramped into the menu button popup leaving most users guessing if there's something in the menu or not.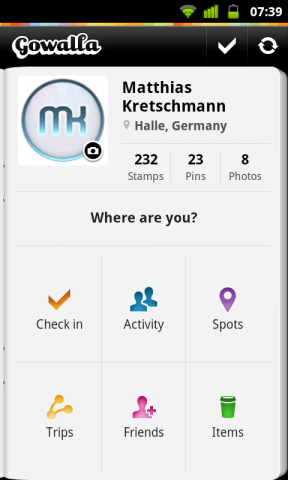 Another cool UI element is the custom tab bar you see in the spots overview screen. While definitely looking better than the standard Android tab bar it's also packed with features.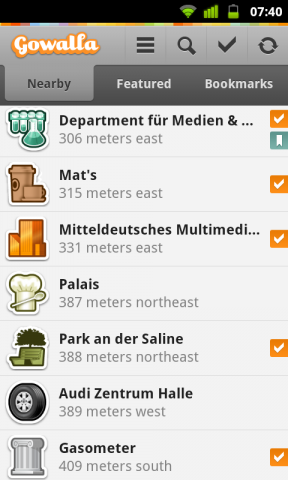 Of course the action of checking in is the main focus of this app. When checking in you're presented with just the right options. The app automatically selects the nearest spot so you only have to tap Check In and you're done. Additionally you can add a comment and a photo and by tapping on the Sharing button you can let the app post your checkin easily to Twitter, Facebook, Foursquare and tumblr.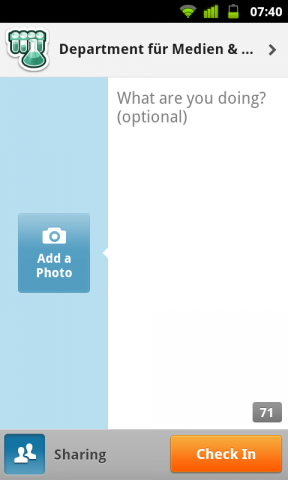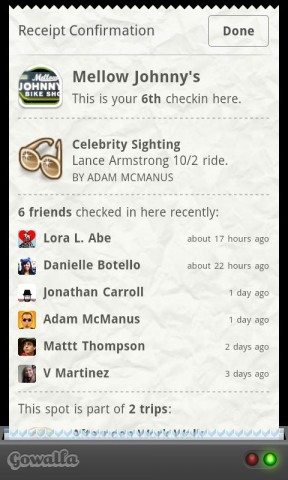 Gowalla is a free app on the Market for all devices with Android 1.6+ and you need to signup with Gowalla to use the app. If you don't, you're really missing out on great places represented by great stamps